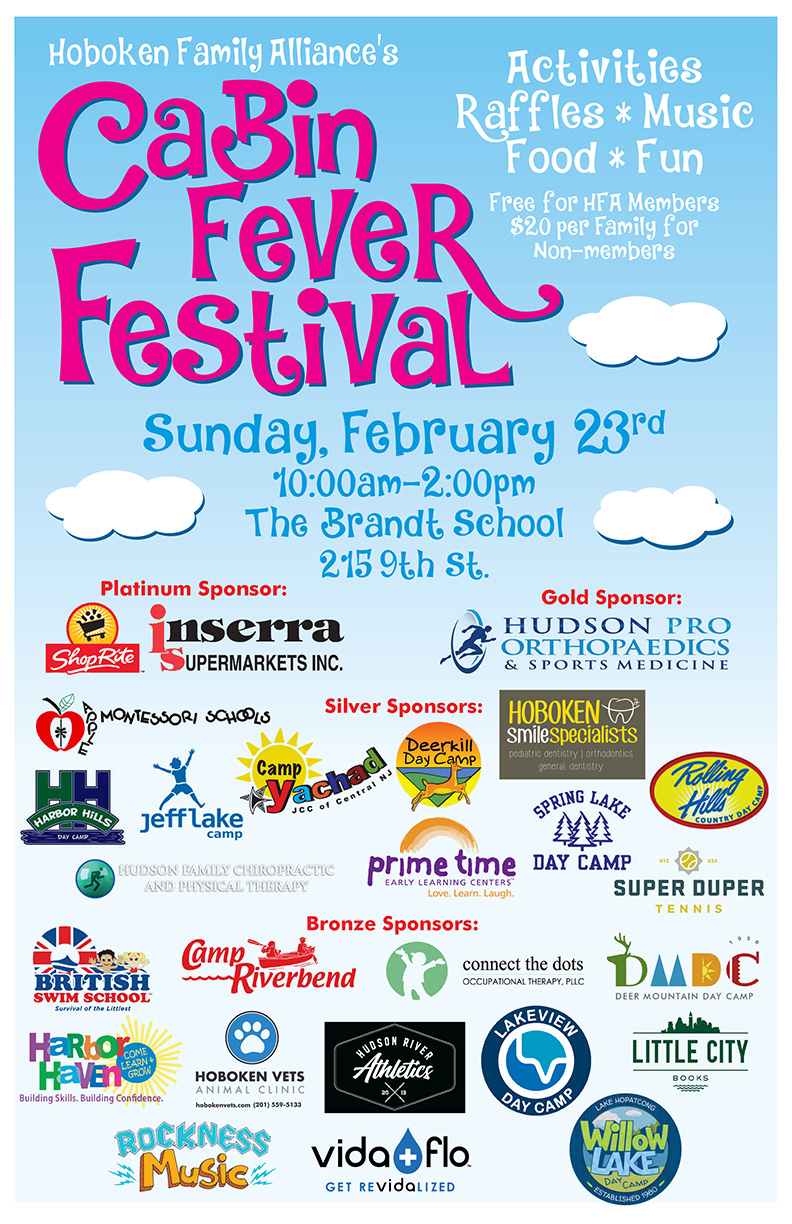 On Sunday, February 23rd, the Hoboken Family Alliance will host its annual Cabin Fever Festival. This will be the 17th year that the HFA has been organizing this event. Cabin Fever is an open house for local businesses catering to kids. Sample kids classes, activities and summer day camps. Enjoy live music and dance performances. While you check out the details and meet the instructors and camp counselors, the kids can cure their "cabin fever" with arts activities, face painting, balloons, and more.
Hours of fun will run from 10am to 2pm on Sunday, February 23rd at The Brandt School (215 9th St, Hoboken). Cabin Fever, is free for HFA Members (https://hobokenfamily.org/?page_id=1811) and $20 per family for non-members.
Activities will include sample craft tables from more than ten day camps from all over New Jersey and New York. They will be on hand to answer questions about attending their camps via bus service from Hoboken.
Also, we will feature local kid musicians, dance performances, face painting, balloons, spin art, arts & crafts, games, and much more.
Performances from the Shehnaaz Dance Academy (https://shehnaazdanceacademy.com/), Rockness Music (https://rocknessmusic.com/location/hoboken-nj-uptown/), Mile Square Dance Academy (https://www.milesquaretheatre.org/mile-square-theatre-classes/dance/) and School of Rock (https://locations.schoolofrock.com/hoboken) will run throughout the day!
We are thrilled to announce during this year's Annual Cabin Fever Festival, that we will be providing $15,000 for HFA's Community Neighbor Award Grants. Your participation in Cabin Fever and other HFA events makes these grants possible! Recipients this year include: Hudson CASA, Family Promise, Hoboken Historical Museum, HOPES, In Jesus Name, Jubilee Center, Mile Square Theatre, True Mentors and Women Rising.
As a non-profit organization, HFA has given over $500,000 back to the community over the past 18 years through grants, college scholarships, event programming and financial donations. We organize various programs throughout the year, including toy and pajama drives, backpack drives, summer food drives, a holiday party, a bike camp for children with special needs, an education forum for school programs, and several more events. HFA is dedicated to connecting families and supporting our local community. All of this is possible due to the generosity of our members and local businesses. Join HFA today! (https://hobokenfamily.org/?page_id=1811)
Thank you to our generous sponsors!
Inserra Shoprite of Hoboken for your Platinum Sponsorship! And Hudson Pro Orthopaedics & Sports Medicine for your Gold Sponsorship! Rounding out the Silver Sponsorships are Apple Montessori Schools, Camp Yachad, Deerkill Day Camp, Harbor Hills Day Camp, Hoboken Smile Specialists, Hudson Family Chiropractic, Physical Therapy, & Acupuncture, Prime Time Early Learning Center, Rolling Hills Day Camp, Spring Lake Day Camp and Super Duper Tennis. Our Bronze Sponsors include: British Swim School, Camp Riverbend, Connect The Dots OT, Deer Mountain Day Camp, Harbor Haven Day Camp, Hoboken Vets, Hudson River Athletics, LakeView Day Camp, Little City Books, Rockness Music, vida + flo and Willow Lake Day Camp!
Join us for your chance at winning upwards of 100 gift cards to area shops! #hobokenrocks