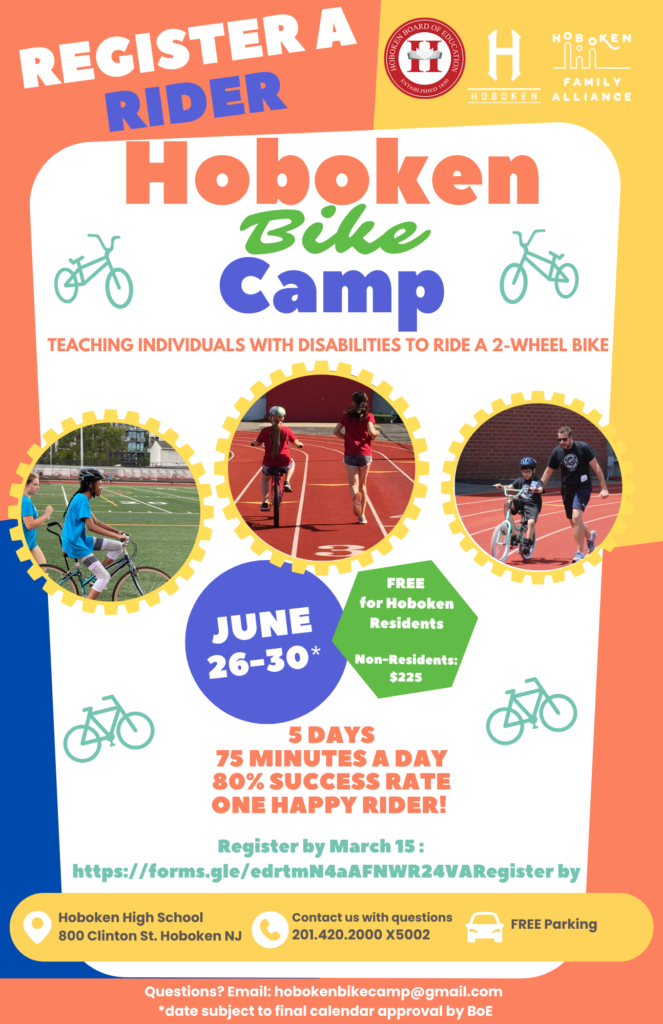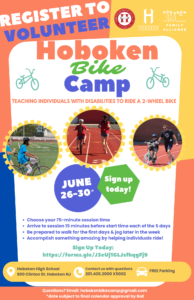 The Hoboken Family Alliance will host the 12th Annual Hoboken Bike Camp June 26-June 30 to teach individuals with disabilities to ride a two-wheel bicycle independently. This life-changing program fosters independence, inclusion and acceptance, two wheels at a time.
Operated in conjunction with iCanBike, a national, not-for-profit organization that has conducted hundreds of camps over the past decade, the City of Hoboken and the Hoboken Public School District, the camp uses a proven protocol with an 80% success rate. Because of specially adapted bikes that use a roller instead of a rear wheel, participants become more balanced and comfortable in an accelerated time period. An on-site bike technician and floor supervisor help advance throughout a series of levels and within five days they are riding independently.
Hoboken was the first city in New Jersey to host a camp in 2012 and four other N.J. cities have since followed. Riders use adaptive equipment for the first three days but need to have their own bike by Thursday to transition successfully to their own bicycle. It's important that riders continue to ride once the camp is complete to continue practicing and applying their newly-learned skills.
The camp creates community through the volunteer efforts of more than 50 individuals who are the foundation for helping participants achieve success in the camp.
REGISTER To register for the camp, complete the registration form. (Please note: you must make your rider registration payment below to complete your registration) HobokenRiderRegistrationForm2023
MAKE YOUR REGISTRATION PAYMENT OR DONATE HERE: (Please note: you must make your registration payment here at the time of registration in order to secure your spot.) https://www.paypal.com/donate/?hosted_button_id=9GGCRHVQLC8CN
VOLUNTEER Help someone achieve their dream. VolunteerRegistrationForm2023.