"I Can Mask!"
August 13, 2020 @ 3:00 pm

-

3:45 pm

$4 – $150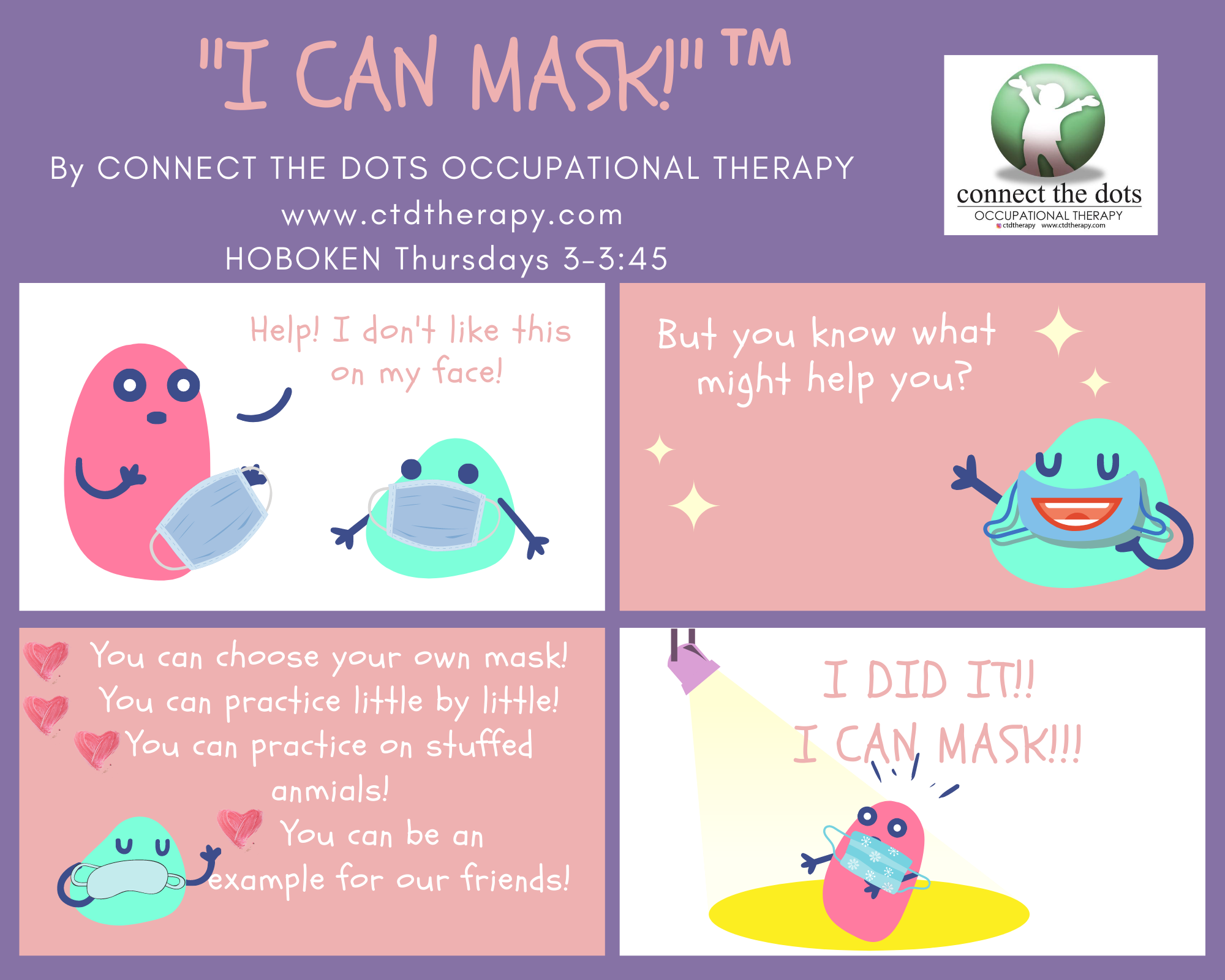 "I CAN MASK!"™ CLASS COMING TO HOBOKEN!!
Connect the Dots OT has prepared an innovative and time sensitive "I Can Mask!"™ class for all of our kiddos struggling with CDC's guidelines of mask wearing in public spaces. Our class will be held outdoors, focusing on empowering and educating children on the purpose of mask wearing and teaching CDC guidelines for proper mask handling, storage and overall hygiene best practices. OTs are particularly skilled in understanding a child's unique needs and preferences and like so many other areas of life, we believe that not one mask fits all! Our Director was recently featured to share her expertise on "Mask Wearing for our Children" Fox 5 NY. We have partnered with some of the nation's top kid's mask makers, and so incredibly excited that we have received donations from multiple companies, including Rafi Nova, The Mask Buddy, School Mask Pack, thenxtstop to name a few!! We will rotate distribution of the masks and each enrolled child will be provided a selection of cloth masks on the first class for theirs to keep, and they will make the empowering choice throughout the semester of which mask they prefer. Your child will engage in socialization and building fine/gross motor skills, all while increasing their acceptance and tolerance to wearing a mask. Our end goal is to prepare them for any and all environments requiring a mask, and for them to be able to fully participate with their peers!
These classes will be hosted by our CTD occupational therapist and held Thursdays from 3pm-3:45 pm. We will hold our first semester in August, and the second in September. Our first class will begin on August 6, 2020 in an outdoor space in Hoboken,near 7th and Jackson St. This class is open to children ages 2.5-6, and according to CDC guidelines is not appropriate for children who have trouble breathing or is unable to remove a mask without assistance. Parent/Caregiver Participation is required.
Since 2005,Connect The Dots OT has provided OT evaluations and home,school, sensory clinic based OT services throughout NYC and Hudson County, NJ.
Please sign up here:"I Can Mask!"™ and contact us with any questions at admin@nullctdtherapy.com