We are very excited to invite you to the All Schools Open House on Friday, October 20th from 11am - 2pm at Hoboken Grace Church Community Center (409 14th St, Hoboken, NJ).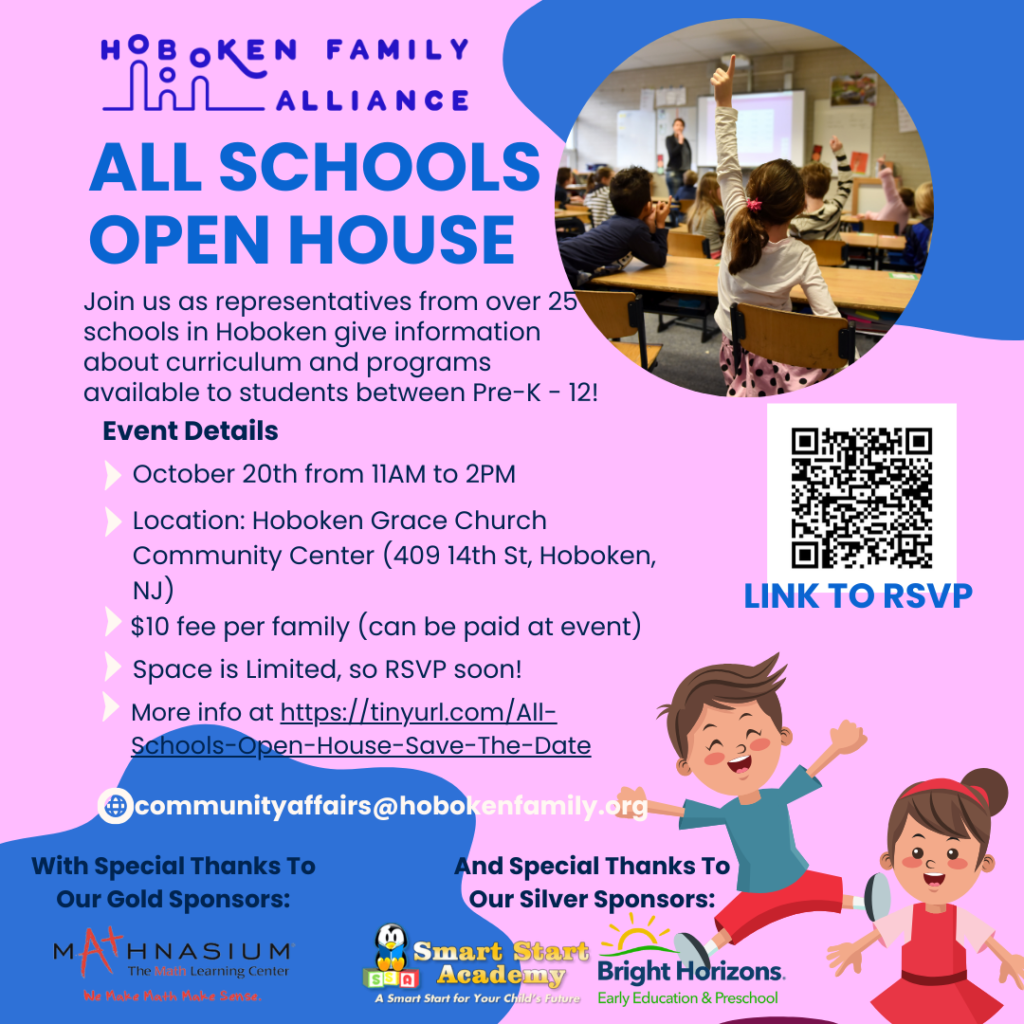 This event will bring together over 25 schools, including public, private, charter, Pre-K and daycares located in and around Hoboken. Representatives from each school can provide information about their curriculum and programs. This is a great opportunity for our community to come together and learn about their Pre-K - 12 options.
We suggest an admission fee of $10 per family to support our non-profit organization. This fee is payable at the event.
All Saints Episcopal Day School, Hoboken NJ
Apple Montessori, Hoboken NJ
Avenues The World School, New York NY
Brandt Elementary School, Hoboken NJ
Bright Horizons, Hoboken NJ
Connors Elementary School, Hoboken NJ
Delbarton School, Morristown NJ
Dwight-Englewood School, Englewood NJ
Elysian Charter School, Hoboken NJ
Franklin School, Jersey City NJ
French American Academy, Hoboken NJ
Hoboken Catholic Academy, Hoboken NJ
HOPES Preschool Program, Hoboken NJ
Hoboken Charter School, Hooken NJ
Hoboken Dual Language Charter School (HoLa), Hoboken NJ
Hoboken High School, Hoboken NJ
Hoboken Middle School, Hoboken NJ
Hoboken Montessori School, Hoboken NJ
Hudson Catholic Regional High School, Jersey City NJ
Kaplan Preschool, Hoboken NJ
Mile Square Early Learning Center-Preschool Program, Hoboken NJ
Smart Start Academy, Hoboken NJ
Stevens Cooperative School, Hoboken and Jersey City NJ
Tessa International, Hoboken NJ
The Learning Experience, Hoboken NJ
The Hudson School, Hoboken NJ
Wallace Elementary School, Hoboken NJ
Waterfront Montessori, Jersey City NJ
Xavier High School, New York NY
Space is limited. To reserve your spot, please register here