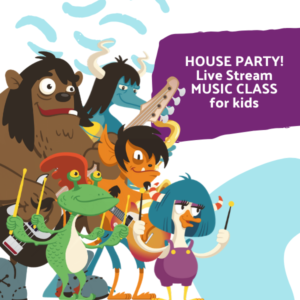 Rockness Music invites families with young children to join our musical online broadcast. The classes incorporate live music with, music and movement, dramatic play, STEAM, drumming and instrument exploration.
INTERNATIONAL ONLINE BROADCAST
Catch us LIVE – Streaming Monday—Friday
at 10AM on our Facebook  page!
Classes are free however, we encourage tips or donations from participants for our performers.
Rockness Music offers private and public music instruction for early childhood institutions as well as children up to 6th grade in the NY public school system. We also host large shows, events and birthdays in the New York Metropolitan Area. In order to continue to serve our schools, and families we are offering these classes as a way to continue learning, and socializing through music. All of the music performed is credited to Rockness Music's house band Michael & the Rockness Monsters (a national touring act that has released four full length albums and performed the likes of Lincoln Center and Symphony Space in NYC), and cannot be reproduced or recorded without the express written consent of Rockness Music. Our mission at Rockness Music is to provide a fun, safe and unforgettably awesome environment for children to learn and grow through the power of music. We build life skills, positive trains, and confidence in children through music.