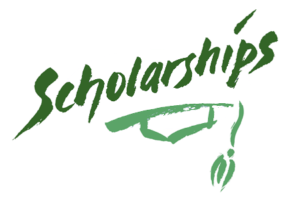 The Hoboken Family Alliance provides at least 3 scholarships to high school seniors who reside and attend high school In Hoboken, NJ. Additionally, HFA also awards one scholarship to a high school graduate with special needs. In total HFA has given out 31 scholarships totalling $64,000! Help us continue to support higher education for our high school seniors by donating to the scholarship program.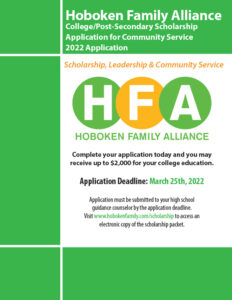 Complete your scholarship application today and you may receive up to $2,000 for your college education.
Application Deadline March 25, 2022

Application must be submitted to your high school guidance counselor by the application deadline.
You must use the most current official Hoboken Family Alliance College Scholarship application. It must be dated and signed by you and your parent(s) or guardian. Typed applications are preferred; however, neatly written in print is also acceptable. An electronic PHFA_Scholarship_2022_V2DF version of the application is available to download here. The PDF version has form fields that can be typed into, saved to your computer and printed when you are ready to sign and submit it.
All applications will be reviewed and award decisions made based on a combination of academic merit, community sensibility and service. Applications and all supporting documents must be in English or English translations. We recommend making a copy of the entire application for your own records as submissions will not be returned . The application must be submitted to your school's coordinator by NOON on March 25, 2022.
ELIGIBILITY
Any senior who resides in Hoboken, attends a Hoboken high school and has applied to an accredited two or four-year institution.
COMPLETED APPLICATION
Your application must be submitted to your school's coordinator in a folder with pockets. The folder should include the application, essay, transcripts, college acceptance or application forms and optional exhibits. Applications may also be submitted electronically to HFA by the school's coordinators.
EMPLOYMENT
List any jobs and hours worked for the period from September of freshman year through now. List approximate number of hours worked per week.
COMMUNITY SERVICE
List any community service from September of freshman year through now. List hours served in total or per project and provide the name of the organization and contact information.
HONORS AND AWARDS
Remember to record academic, leadership or athletic accomplishment including such milestones or awards as: Eagle Scout, Gold Award, Teen of the Year, any statewide or national conference recognition; National Merit or AP (or IB recognition).
LEADERSHIP AND EXTRACURRICULAR ACTIVITIES
List your primary high school leadership roles and extracurricular activities, the number of years involved and hours worked per week. Please complete this even if you plan to include an activity sheet.
ESSAY
Choose one essay. Essay should be 500 words and attached as part of the application. Give the essay a title and include your name on the top.
EXHIBITS (OPTIONAL)
Exhibits are optional and supplemental. You may attach up to 10 pages of exhibits in achievements across scholarship, leadership, athletics, academic clubs, drama, community service or other activities. Resumes, activity sheets and essays are NOT considered optional exhibits.
COUNSELOR REPORT
This report must be completed by your high school guidance counselor or appropriate school official. The report form and school profile (a document that describes the school's demographics and course offerings) must be submitted in a sealed envelope.