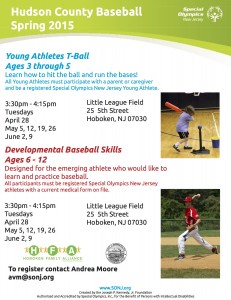 For the second season, the Hoboken Recreation department, Hoboken Family Alliance and Special Olympics have partnered to offer up two levels of baseball clinics starting Tuesday, April 28 on the Little League Field.
The program is open to area individuals with cognitive disabilities ages 3-5 for T-Ball and 6-12 for Developmental Baseball.
Children enrolled in the T-Ball program will learn baseball basics including how to hit the ball, run the bases, and the spirit of team work. Youths enrolled in the Developmental will learn and practice the game play and technical aspects of the sport and is designed for the emerging athlete.
The program runs Tuesdays from April 28 - June 9 at the Little League Field from 3:30 PM - 4:15 PM. Participation is free but registration is required. Please email Andrea Moore at avm@nullsonj.org today to enroll your child today.