As an organization of hundreds of Hoboken families, HFA is in a great position to affect positive change in our local community. There are lots of Hudson County people in need of some extra care, attention, support or resources, including seniors, children of all ages and the homeless.
The Philanthropy committee of HFA strives to create meaningful collaborations between our members and the community and has already partnered with the All Saints Development Corporation, Good Counsel, Hoboken Boys & Girls Club, Hoboken Historical Museum, Hoboken Shelter, Hudson CASA, Hudson Perinatal Consortium, Hudson Milestones, In Jesus Name Charities, Jubilee Center, Mile Square Theatre, NJ Division of Child Protection and Permanency (formerly known as- DYFS), True Mentors, WIC, Women Rising and the York Street Project to provide service, in-kind donations and/or volunteers. In addition to in-kind donations listed above, and over $15,000 to Project Play, HFA donated over $18,000 to various philanthropic causes and local charities this year.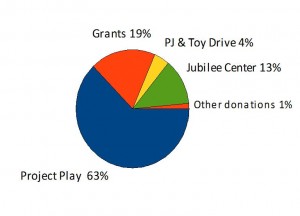 We maintain a list of local organizations in need of donations and/or volunteers (see Resources), so HFA members can always find ways to help.
The Philanthropy committee is always looking to expand our resources and partnerships. Volunteers are always needed and welcome and you may participate as your schedule allows. If you would like to hear more about our projects, please contact philanthropy@nullhobokenfamily.org.
If you would like to make a tax-deductible donation to the HFA to help fund our local events, as well as our philanthropic mission, click the DONATE NOW button below. (Donations are made through PayPal).
---
Homework Club Birthday Parties
The HFA Philanthropy Committee is working with the Jubilee Center to provide birthday parties for less privileged children. Every year, the HFA has given over $3,000 to the Jubilee Center for this cause.  The Jubilee Center is an after school program offering snacks, homework help, enrichment activities, dinner and tutoring, to approximately 100 children, ages 5 through 12, living in Hoboken's public housing neighborhood.
The Jubilee Center receives support from All Saints Community Service & Development Corporation and is located at 601 Jackson Street.
One Friday afternoon per month during the school year, the Philanthropy committee provides a birthday party for the members of the Jubilee Kids, including a cake, a special activity such as a game or arts and crafts project, and a gift certificate for each birthday child that month.
Help us make birthdays special for the Jubilee Kids by volunteering and/or donating to this project! Donations of party supplies (including plates, napkins, cups and decorations), arts and crafts supplies, as well as homebaked cupcakes or cake are needed for each party. Volunteers are always needed to assist at the parties. To participate in this project, please contact the Jubilee Center.
---