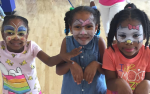 Activities
Looking for a fun outlet for young people during the summer that is safe, supervised and affordable? In addition to the afterschool programs for which Boys & Girls Clubs are known, we offer full-day camps during the summer at each of our Clubs. Young people are involved in a variety of engaging programs under the supervision of adult professionals, including field trips to baseball games, water parks, museums and other local attractions. Contact the Club or stop in to our Clubhouses in Jersey City or Hoboken to get registration information.
Rising STAR's (Science, Technology, Art and Reading)
A summer program specifically designed for children (Kindergarten - 3rd grade) to develop self-worth, communication skills, thinking skills, literacy, science and technology proficiency, and creativity as well as healthy living and active learning in every part of the Club experience. The program emphasizes good nutrition, regular physical activity and improving overall well-being.
Middle School Summer Camp
A summer program specifically designed for youth (grades 4-8) focusing on developing academic and social skills through field trips and daily educational activities. Two days each week members will be discovering new experiences by going on trips which are both educational and recreational. The remaining three days, members will be in the Clubhouse and participate in fun, academic enrichment, physical fitness, social recreation, and arts and cultural activities.
Best Buy Summer Teen Tech Camp
The Teen Tech Summer Camp is for teens ages 13-18. Each week will have a different theme from photography and graphic design to filmmaking to motion graphics to coding and apps to Google Maker Camp.