A six-week program for teens to help them adopt a healthy mindset to tackle life's daily challenges - whether it's school work, sports, or just being a teen starts Wed., Nov. 6.
Led by teacher, coach, counselor and mentor Jeff Train, the workshop runs weekly on Wednesday evenings from 7:00 PM - 8:15 PM at Mile Square Theater through Dec. 18. With interactive exercises, relatable discussions and "Adversity Scrimmages" Train helps teens adopt the right perspective to approach homework, practice time and chores with the workshop to build perseverance. The lessons learned will help them incorporate challenges into their own personal narrative and to difficulty to forge meaning and enjoyment in the process. The fee for the program is $240.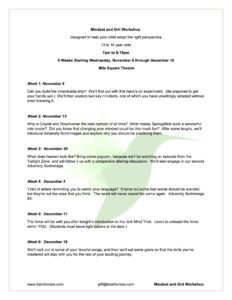 Train says that by the end of this 6-week workshop, your child will understand the benefits of choosing a growth minded, optimalist perspective, and he/she will have numerous opportunities to practice the newfound orientation within his/her life. Register today.