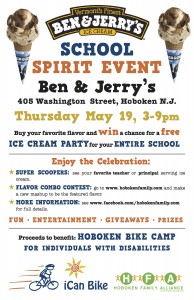 Join Hoboken Family Alliance when we host the annual School Spirit Event at Ben & Jerry's, Hoboken, N.J., on Thursday, May 19.
The school that comes out to buy ice cream, creates a new ice cream combination in The Flavor Contest and/or submits entries into the Ice-Cream Art competition will qualify to win an End of School Ice Cream Party for the entire school, courtesy of Ben & Jerry's.
The benefit night will help HFA generate awareness and recruit volunteers and donations for the Hoboken Bike Camp, June 27-July 1. Ben & Jerry's will donate a percentage of sales from School Spirit Event to the annual camp. Hoboken Family Alliance will host the camp for the 6th consecutive year. The program teaches individuals with disabilities to ride a two-wheel bike independently and relies on the help of more than 50 volunteers to achieve this wonderful feat.
The event will feature live entertainment, fun, games, giveaways and raffles. Schools earn points by:
• Coming out to buy ice-cream at any time throughout the event on May 19
• Entering a unique flavor combo in The Flavor Contest . Create a fun combo with a creative name.
• Showing in words, pictures, painting or photos what you love about Hoboken and ice-cream. Entries accepted starting Wednesday, April 27. Entries need to include student and school name and are required to be posted on our Facebook page https://www.facebook.com/HobokenFamily?ref=hl
Contest submissions are allowable through May 17, 5 PM EST to count toward points. Points will be accrued based on a ratings system that includes contest engagement and creativity; school support for the event. Winners will be determined by the HFA board. For any questions or participation please email Theresa Howard at hobokenbikecamp@nullgmail.com
The event will feature live entertainment, fun, games, giveaways and raffles.