Mother's Day is a great day to run for your mom or run if you're a mom. Start Mother's Day the active way with the family fun of the 16th Annual HOHA Classic. The day includes the Classic 5-Mile race, 1.5-Mile Baby Stroller race and 1-Mile Fun Run for kids.
The race, on Sunday, May 11, benefits the Jubilee Center, a non-denominational community center located at 6th and Jackson Streets in Hoboken, that provides after-school youth programs for the Hoboken community, especially those in need. The event is organized by the Hoboken Harriers Running Club and All Saints Community Development Corporation and is sponsored by Carepoint Health, Cindy Cray, Haven Savings Bank, Fleet Feet Sports, URSA Development Group, LLC, BCB Community Bank, and WeeBabe.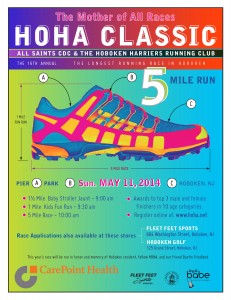 This year's 5 Mile run will be run in honor of Dustin J. Friedland, a Hobokenite and HOHA club member who was tragically killed last December at the Short Hills Mall. Donations in honor of Dustin can be made at the HOHA website (www.hoha.net). People are invited to run and/or donate in his honor and memory.
The day begins at 9 AM with the stroller race followed by the Fun Run at 9:30 AM. The 5-Mile run begins at 10 AM. All races begin at Pier A, one block north of the PATH station, and wind along the Hoboken waterfront. Advance registration for the 5-Mile race is $25, and race day registration is $30; the fun run is $5, and the baby-stroller event is $15. Advance registration is available at www.hoha.net until May 9th, or through the mail if postmarked by May 5th.
Applications are available at Fleet Feet running store, located at 604 Washington Street in Hoboken, or by printing it from the HOHA site, www.hoha.net. Race-day registration is also available and closes 15 minutes before each event.
T-shirts for all pre-registered runners are provided, and shirts will be given out while supplies last to race-day registrants. Awards will be given to the top three male and female finishers in 10-year age groups in the 5-Mile race.