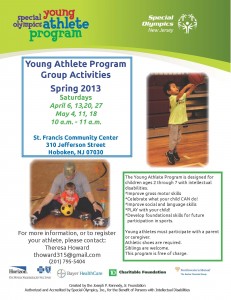 The Hoboken Family Alliance is getting ready for the spring session of the Special Olympics Young Athletes Program. The free, seven-week session begins Saturday, April 6 and is open to children with developmental and physical disabilities.
The program fosters social skills, athletic fundamentals and the most important aspect - fun! The program began about three years ago as a way to introduce special needs children into the world of sports. Children must be 8 or older to compete in Special Olympics and the organization recognized that there was a need to introduce children to athletic basics earlier on in their development.
Registrants will also receive a free at-home pack of gear that parents and caregivers can use with their children.
We're also looking for individuals to help volunteer to work with the children and help lead the sessions. If you would like to volunteer or register your child please email thoward315@nullgmail.com today.