After an incredible summer with the 3rd Annual Hoboken Bike Camp for children with special needs, the HFA is happy to report that soccer with the Red Bulls and the Special Olympics Young Athlete Program are back for the fall.
For the third year, the Red Bulls will operate is Believe program that teaches youths with cognitive disabilities to play soccer. The free program begins  Sunday, Sepetember 15 and runs through November 10. The  clinic runs every Sunday from 3 p.m. - 4 p.m. at the City's Multiservice Center, located at 2nd and Grand. The program is open to 3-year-olds to 18-year-olds. The sessions will group playing partners by age and ability. You can register today at: http://Red Bulls Believe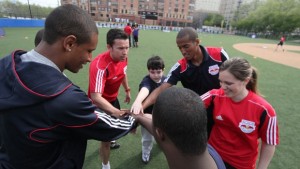 Aditionally, the Young Athlete Program begins on Sept. 28 and will run  each Saturday from 10 am - 11 am at the St. Francis Community Center through Nov. 2. The program is open to 2.5-year-olds to 7-year-olds and is designed to help teach athletic fundamentals  to help children prepare for Special Olympics competition, which is open for individuals eight and older. Registration is required. Please email Theresa Howard to register today.
The programs are part of a broader push by the city of Hoboken and parents of Hoboken to continue to offer and expand recreational and sporting opportunites for children with disabilities.